Diabetics always have to be vigilant of their meals and food choices. They require good nutrients, and more importantly, they need to stay away from any foods that can hurt their body.
Often many every day, as well as common meal choices, become a confusing venture. Pasta, which is a very common food choice of many of us, may also significantly impact the body. Thus, it needs to be done right.
Today, we will tell you:
Which pasta is better for Diabetics?
Diabetes-friendly pasta recipes
With the right guidance, you can make better choices to maintain and manage a healthy diabetic lifestyle.
Which pasta is better for diabetics?
Among the numerous types, ingredients used, processing, and recipes of pasta, there are some that you should include and some that you should avoid.
What makes the everyday pasta inefficient?
The most common variety of pasta is White flour pasta. This is often not the best choice, especially if you are a diabetic patient.
The regular white pasta is made from refined flour or Maida. It is a polished variety of whole wheat that is stripped of its important nutrients and fibers.
This refined variety of flour is very rich in carbohydrates, which can cause spikes in the level of sugar in the blood.
So what to substitute this regular refined white flour pasta with?
There are many healthy flour type sand varieties available that can be used to make pasta. Many such diabetes-friendly flours are sued to make pasta that will not have any major effects on the blood sugars.
Here is some substitute pasta that is better for diabetics:
Whole wheat Pasta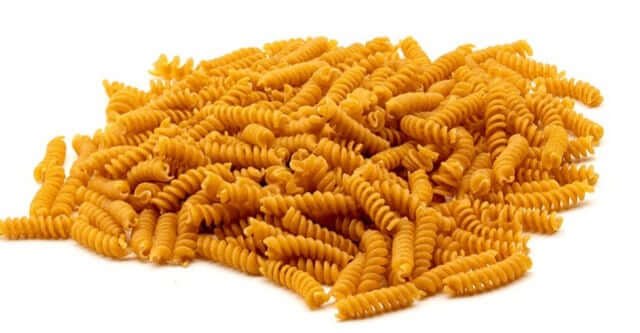 What better way to control carbs than switching to whole grains? They also supply enough fiber and keep carbohydrate consumption minimal.
The taste of whole wheat pasta is just as similar to white flour pasta. So you do not have to compromise on either health or taste of the pasta.
It is also easily available everywhere. It is better than your refined white pasta.
A regular half-cup serving of pasta made from whole wheat has around 85 to 88 calories. This includes approximately 18 grams of total carbohydrates.
You can check the price of this popular whole wheat Pasta in Amazon, by clicking here
Chickpea flour Pasta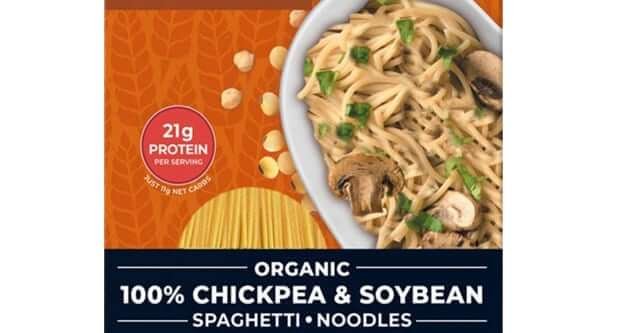 If you are looking for another option that is not whole wheat, then gram flour can be your go-to pasta flour.
Chickpea flour, or Bengal Gram flour, is another very healthy flour used as a diabetic substitute for regular pasta. It is rich in proteins, minerals, and fiber and low in the Glycemic Index.
Thus, it fits perfectly in one's diabetic meal-type, and blood sugar patients can enjoy the pasta made from it without any worries.
You can check the price of this popular whole wheat Pasta in Amazon, by clicking here
Apart from these two flour varieties, you can also try out:
Egg pasta
Flaxseed pasta
Quinoa grain pasta
Sorghum pasta
Spaghetti squash
The Japanese Konjac noodles with zero carbs
Etc.
Other Tips:
There are many diabetic-specific brands as well that provide safe and healthy regular pasta alternatives.
Add in a lot of veggies to your pasta while cooking. It helps to increase the good net nutrients such as – fiber, minerals, anti-oxidants, etc. It also reduces the overall carb consumption.
Cook your pasta al-dente. This is a perfect way to keep the pasta from getting mushy. Cooking methods also determine the influence of food on health.
Always keep in mind to have a moderate amount of pasta to keep any unhealthy symptoms away.
7 Diabetes-friendly Pasta recipes
After knowing which are the best pasta for diabetics, let us look at some great recipes to keep the blood sugars under control:
Vegetable pasta
Ingredients:
Low sodium chicken broth (1 cup)
Minced garlic (2 cloves)
Grated ginger (2 tsp.)
Peeled and Diced carrots (2)
Diagonally cut celery sticks (3 celery stalks)
Mushrooms (1.5 cups)
Broccoli (1.5 cups)
Light Soy sauce (1 tablespoon)
Sesame oil (1 tsp.)
Cooked whole-wheat pasta (1 cup)
Method:
Heat a pan and add in 2 tbsps of chicken broth. Add in the minced garlic and grated ginger and sauté for 30 seconds.
Add in the carrots and celery and sauté for five more minutes before adding the broccoli and mushrooms.
Pour in half a cup of the chicken broth and steam for 5 minutes.
Add the sesame oil, soy sauce, and rest of the broth in a separate bowl. Add in some cornstarch and mix well.
Pour this mixture, and the gravy will start to thicken. Stir and cook for a minute.
Add in the pasta, stir, and serve hot.
Tomatoes, garlic, and fresh basil Pasta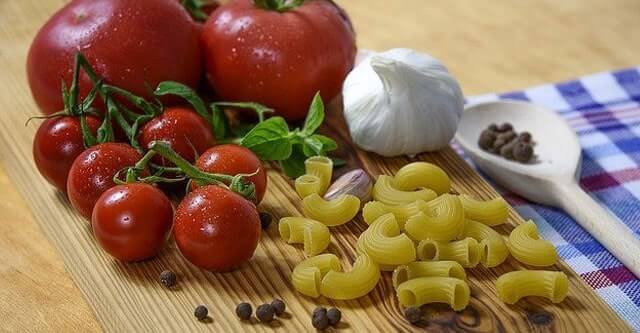 Ingredients:
Garlic cloves, thinly chopped (8)
Diced tomatoes (3 cups)
Fresh basil leaves (1 cup)
Salt and pepper as per taste
Pasta (2 cups)
Olive oil (1 tbsp.)
Grated Parmesan cheese (3 tbsps.)
Method:
Heat some oil in a skillet and add the garlic, sauté until aromatic.
Add in the tomatoes and basil. Mix and cook for 3 minutes.
Boil the pasta until properly al dente. Drain excess water and let it cool. Add in olive oil and toss the pasta to prevent sticking.
Pour the tomato basil mixture on the pasta.
Grate some parmesan over the pasta and serve hot.
Chicken pasta soup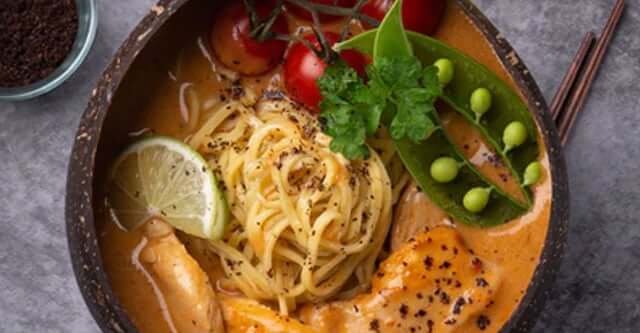 Ingredients:
Chicken cut into pieces (8 pounds)
Peeled onions (2 – dice one, and cut the other in quarters)
Carrots (3 – dice two, cut one in quarters)
Parsley (3 sprigs)
Thyme crushed (1/2 tsp.)
Pepper and salt
Low-sodium Chicken broth
Sliced mushrooms (1 cup)
Fresh spinach (1 cup)
Diced celery (2 stalks)
Water (1 quart)
Pasta (1.5 cups)
Method:
Place the cut chicken pieces in a cooker; add in the quartered onions, carrots, and parsley. Sprinkle some pepper and thyme. Cover and cook on high for around 2 hours.
When done, remove the onions, carrots, and parsley. Remove the fat from the broth.
Remove the chicken and cool. Separate the bones and shred the chicken.
Add the chicken back to the cooker, add all the diced veggies. Slow cook for 10 minutes.
Boil the pasta as per directions mentioned on the package.
When the soup is ready to serve, add the pasta to it. Sprinkle some salt and pepper from the top and serve.
Penne Arrabbiata Pasta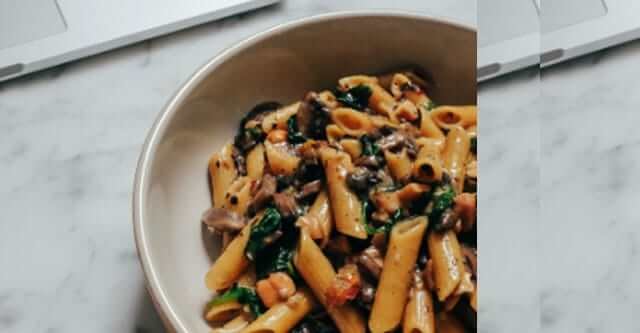 Ingredients:
Chili flakes (1/2 tsp.)
Finely chopped garlic (2 large cloves)
Olive oil (1 tbsp.)
Italian tomatoes and juice (8 ounces)
Pasta (2 cups)
Parsley (2 tbsps.)
Grated Parmesan (3 tbsps.)
Pepper and salt
Method:
Sauté the chopped garlic and chili flakes in olive oil for 2 mins.
Add in the tomatoes and juice and crush them with the spoon. Let it cook for 15mins until the sauce thickens.
Cook the pasta as per the directions. Just as it's cooked, strain it and add cold water to prevent further cooking. It maintains the al dente texture.
Add the pasta to the tomato sauce, sprinkle with Parmesan, pepper, and salt, and serve hot.
Broccoli and Sausage Pasta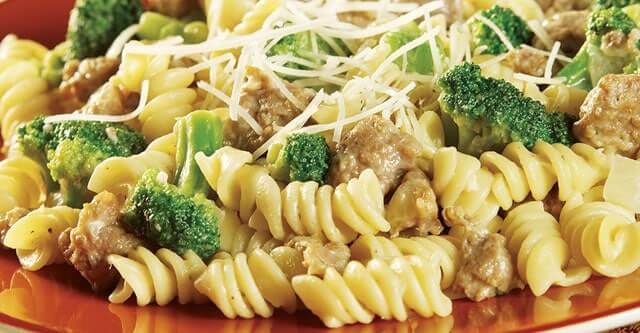 Ingredients:
Whole wheat Penne (1.5 cups)
Broccoli florets (2 cups)
Turkey sausage (2 cups)
Onions (2 – one quartered, one diced)
Minced garlic (2 cloves)
Lemon zest (2 tsp.)
Salt and pepper
Parmesan cheese (1/3 cup)
Method:
Boil the pasta like instructed on the package. Before 5 to 6 mins of completion of boiling, add the broccoli florets to the water. After the pasta is al dente, strain the pasta and broccoli.
In a hot skillet, add some oil to sauté the sausage, onions, and garlic together. Drain the fat while you cook, and keep stirring.
Add the broccoli and pasta to the sausage mix, sprinkle the lemon zest, pepper, Parmesan, and salt, before serving.
Fresh veggie Penne
Ingredients:
Eggplant (3/4 cup)
Zucchini diced (1/2 cup)
Onions diced (1.5 cups)
Minced garlic (2 cloves)
Red pepper, thinly sliced (1)
Tomatoes, chopped (3)
Balsamic vinegar (1.5 tbsps.)
Ricotta cheese (1/2 cup)
Fresh basil (1/3 cup)
Parmesan cheese (2 tbsps.)
Penne pasta (2 cups)
Method:
Preheat oven
Line the oven tray with foil and add some cooking spray. Place the zucchini and eggplant cubes on the foil.
Broil the veggies until brown from all sides.
Sauté onions and garlic in a pan and add in tomatoes and red peppers. Sauté for 5 mins.
Boil and cook the pasta as per directions.
Add the eggplant and zucchini to the sautéed veggies, and add in the cooked pasta.
Stir well, add in the cheese, and serve.
Spinach and Seafood Pasta
Ingredients:
Pasta (2 cups)
Olive oil (1 tbsp.)
Lemon juice (1 tbsp.)
Lemon Zest (2 tsps.)
Minced garlic (2 cloves)
Parsley (3 tbsps.)
Medium shrimps (2 cups)
Skinless salmon fillets (4 strips)
Baby spinach (2 cups)
Method:
Cook and boil the pasta as per instructions on the package.
In a bowl, combine lemon juice, zest, garlic, and parsley.
In a skillet, sauté the shrimps and salmon fillets. Flip and cook all sides properly. Add in some vinegar and let cook for 2 mins.
Drain pasta, add the lemon garlic paste, and plate with the sautéed seafood.
References
Latest posts by Dr Sharon Baisil MD
(see all)