A wise man once said: "A mind that is stretched by a new experience can never go back to its old dimensions." It is a well-known fact that everyone loves to travel, but when diabetes is added as a new variable in the travel equation, things may not always go as planned.
Being a type one diabetic means that we are constantly forced to think outside of the box, not because it is fun and exciting, but because chronic illness is an uphill battle that we have to fight every day; it never ends; it never gets better. Still, we have to be better and deal with it in a way or another.
As a rule of thumb, we all do worry about things that we should bring with us before traveling, but having diabetes does carry much more weight on our shoulders. We must think about a diet, medication, and other health issues that may arise due to the unpredictability of diabetes. And sometimes, stress can penetrate our mind so deep that it can eclipse the excitement and joy of the travel ahead.
But it is not that dark always. Despite all the hardships, it is still possible to travel safely and sound with diabetes, minimal worry, and stress.
To do that, we will need the right gears that would facilitate our job to manage diabetes.
And one of the main gear that is essential when traveling with insulin is, well, an insulin cooler travel case. Without an insulin cooler, we would not be able to keep our medications cold, and if we fail to do so, it smells like a disaster.
Therefore, today's blog is entirely dedicated to our favorite insulin cooler. It comes from the 4Allfamily Brand, which is founded in 2019. Their main market focus seems to be the diabetic community.
We recommend this insulin cooler because it does by far meet all the standards that we as diabetics require when we travel. To mention a few, we would like a medical-grade cooler that store our insulin in the correct temperature range but does not look too medical. We want an insulin cooler that can store weeks of medication supply but not be too bulky to carry around. We want to go camping and enjoy the outdoors, without worrying about electricity, to chill down the insulin. The insulin cooler that we will describe below has all the capacities mentioned below, and it goes beyond that by offering even more benefits.
To begin with, this is the 4ALLFAMILY 72 Hours USB + Icepack Insulin Cooler travel case. The whole unit is made from 3 main components. The first component is a usual coffee mug made of stainless steel material, with a diameter of 8.3cm (3.3″) and an internal volume of 900 ML (30 oz). Interestingly, the first component is that the bottle itself comprises two bottles, one on top of the other with a small space in between. This space is filled with air, and the vacuum that it creates provides insulation for the inside compartment. On the outside, the stainless-steel material gives the product a shiny aesthetic look and offers protection from light and protection from corrosion.
So far, we have described how the product ensures insulation from heat. But insulation is not enough to keep our insulin cold. A cooling source is needed.
To our surprise, this product has not just one but two cooling sources. The second component and the first cooling source is a bio gel ice pack, which came as the standard on this cooler's second generation. The first generation used a water ice pack instead of bio gel. And a major difference between the bio gel ice pack and the normal water ice pack is their freezing point. The water ice pack has a freezing point of 0°C or 32°F. The problem with this freezing point is that insulin needs to be stored at 2°C-26°C. In effect, using ice water as a cooling source can potentially freeze and waste insulin.
On the other hand, the bio gel ice pack has a freezing point at 2°C/36°F. This feature ensures that the minimum temperature inside the compartment is kept at 2°C/36° F, which is the minimum optimal temperature for storing insulin. To activate this cooling source, you need to freeze the bio gel pack for 6-8 hours in advance. After that time, you need to leave the pack approximately 6-8 minutes in ambient temperature before entering the cup's inner compartment. It also should be noted that the bio gel pack is expertly designed to perfectly fit the curves of the cup to make room for your diabetes supplies.
And last, and the most important component is the USB-powered cooling lid. This feature is what makes this insulin cooler stand out from the rest. The USB-powered lid is like the regular lid, but it has been upgraded with some electronics that can transform the cup into a minifridge when fed by a power source. A power bank of 20000mah can provide enough power to keep the minifridge on for 8 to 9 hours. In principle, the USB-powered lid does lower the inside temperature up to 15°C/27° F compared to the outside temperature. We like it the most because this solution comes in very handy for air travel, car travel, train travel, camping, and many other fun outdoor activities.
4ALLFAMILY INSULIN COOLER ON DIFFERENT ACTIVITIES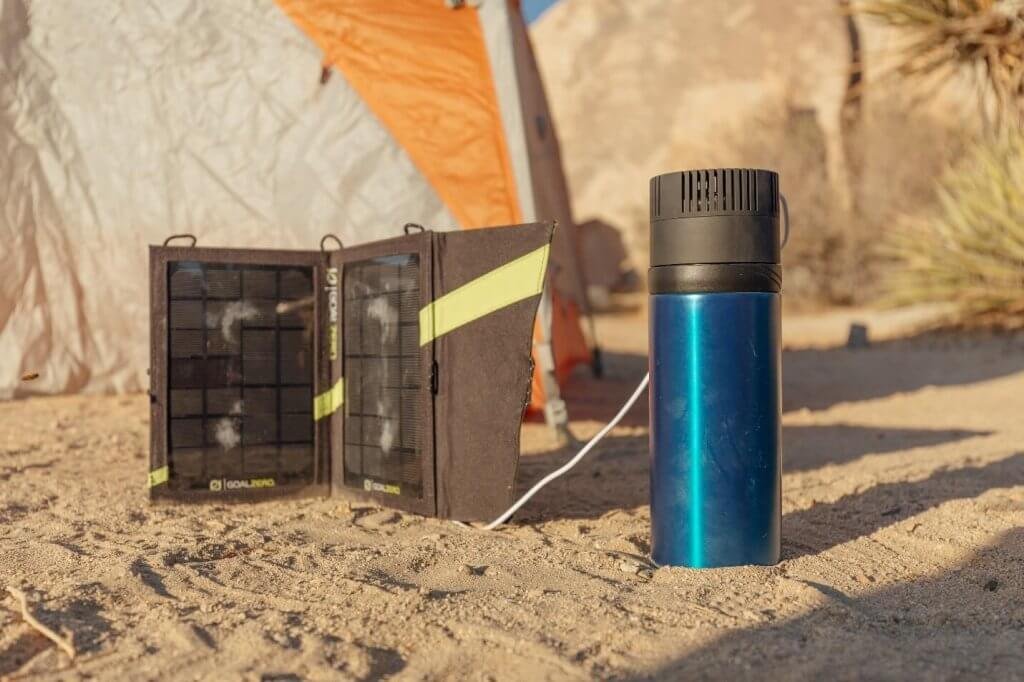 4ALLFAMILY INSULIN COOLER ON A DESERT TRIP
Now that we know in detail about the structural part, we can explain this insulin cooler's performance and capacity. The company claim that the product can do a 72-hour range and more. While we have not had the chance to test ourselves yet, from analyzing the design and the technology that this insulin cooler uses, we are highly confident that it can meet the above threshold. The lab results mention that by activating both cooling sources simultaneously, when tested under a constant 95 F outside temperature, the inside temperature of the insulin cooler was maintained in the 2°-8°C / 35°-46°F range for 50 hours and 2°-26°C/35°-78°F for more than 72 hours. For more specs, please refer to their performance tab.
Regarding the capacity, this cooler can hold seven insulin pens or eight insulin vials when the first cooling method is active. However, by activating the USB cooling lid and removing the bio gel pack, the capacity almost doubles to 15 insulin pens and 16 insulin vials.
Another factor that is also important enough when buying an insulin cooler is if it's TSA approved. 4ALLFAMILY INSULIN COOLER is TSA approved and be easily carried into airplane boards.
And finally, a deciding factor when buying a medication cooler is, of course, the price as well.
4ALLFAMILY INSULIN COOLER is a bit pricey, but you get what you pay for. We are extremely confident that the value they offer in the market reason the pricing. However, for our readers, they decided to offer a 10% discount if you buy on their website with shipping available to most countries of the world. They are also available on Amazon, but you cannot apply discount there.
You can also buy it directly from 4ALL Family website with 10% off, by clicking here and entering our exclusive promo code DIABETES10
Latest posts by Dr Sharon Baisil MD
(see all)